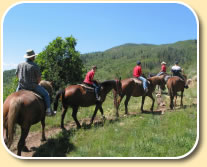 Szczawnica is the border spa town with 7,500 inhabitants, neighbouring on Slovakia, and covering 8,789 hectares, of which nearly two thirds are exquisite forests that have enormous influence on its climate.
Thanks to the specific microclimate and presence of mineral springs, the town specialised in treatment of respiratory, alimentary and urinary tract diseases, as well as limb affections. The spa town has the treatment base, among others in Nature Treatment Institute and Inhalation House, equipped with unique pneumatic chambers for treatment of lung diseases, and brine chambers, in which patients take inhalations, very effective in asthma therapy.
Szczawnica places emphasis on development of sports, tourismand rest, both individual and organised. The town is the perfect tourist base that can receive at the same time several thousand visitors, to whom it can offer accommodation in rooms of diverse standard – from apartments in sanatoria, villas, resort houses to lodgings, hostels, huts and camping sites.
Szczawnica, like the majority of places in Maopolska, has a great offer for spending free time.
The mountains covered with forests with rich flora and fauna attract lovers of hiking. Numerous tourist paths lead towards the highest tops of the Pieniny Mountains and Gorce Mountains as well as to nature reserves: Homole Ravine, Wysokie Skaki, and last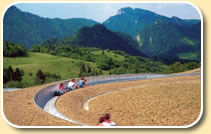 but not least, to one of the most beautiful reserve, abounding in picturesque rock formations that form gorges and waterfalls, Biaa Woda Reserve. The routes are adapted to physical abilities of average tourist.
In the very centre of Szczawnica you can take the chair-lift to Palenica, from which you can admire the panorama view of the Tatra, Pieniny, Beskid Sdecki Mountains and the whole Szczawnica. On the neighbouring Szafranówka a 700 m long summer slide was built, attractive to both children and adults.
Tourists that prefer faster ways of sightseeing will be delighted with numerous bicycle and horse routes, with different difficulty levels. You can hire mountain bike in sports equipment hires in Szczawnica, while at Rajd horse stud farm you can take advantage of the rich offer of horse events.
Lovers of water sports, thanks to the swift current of Dunajec, can try their skills hiring akayak and paddling down the slalom course down the rafting route.
Fans of bird's eye view will feel like heaven in the mountain hut "Pod Durabszk", where paragliding courses are organised.
Keen anglers will find many places in mountain rivers and swift streams to which they will just come back. The Dunajec River together with its tributaries is the biggest and the most popular fly fishery in Poland, and first of all, the place of occurrence of brown trout, grayling and Danube salmon. The charm of varied fishe
ries, wonderful landscapes and clear mountain rivers attract all fishing rod fans.
Stay in Szczawnica is also a great opportunity to experience the charm of the Pieniski National Park, to acquaint with its unique vegetation and the richness of animal world, to visit the nearby castles in Niedzica and Czorsztyn, take a boat trip on Czorstyskie Lake or kayak trip down the Dunajec River.
Rafting down the Dunajec Gorge - the whole route is 20 km long - has for many years enjoyed and still enjoys the well-earned popularity. Szczawnica is also attractive in winter.
When it starts to snow, the town and vicinity is transformed into winter sports centre. In the centre, in Jaworki and by Durbaszka there are ski lifts and ski runs for both beginning and advanced fans of "the white madness".
Skiers with higher skills will be pleased with the run with artificial snow on the slope of Palenica, having FIS official certification, and on which Alpine contest take place. Fully satisfied will be also users of 1,800 m long illuminated ski run - Palenica II.
Snowboard fans are welcome to halfpipe facilities located on the top of Palenica, that attracts more and more snowboarders. There are numerous ski and snowboa
rd hires in Szczawnica. Experienced ski instructors offer their services on ski slopes. Professionally maintained sports facilities proved their usefulness during winter Uniwersjada 2001, when the main organizer of snowboard competitions was Szczawnica. During two weeks the town accommodated couches and competitors from over 20 countries. They compete on Palenica slopes in four snowboard competitions (giant slalom, parallel slalom, boardercross and halfpipe).
The attractiveness of Szczawnica and the tourist offer increased afteropening border checkpoints for hikers and bikers, especially at the nearest Slovakian place, Lenica. A modern, 6 km long educational hike and bike path, built thanks to EU subsidy, became the common tourist offer of both border communes. The path runs from the lower station of "Palenica" ski lift in Szczawnica up the left bank of stream Grajcarek, then down Pieniny road to Lenica. By the path there are parking places for bikers, benches and information tables, presenting the biodiversity of the Pieniski National Park.