The highlanders' folklore is still present in Szczawnica, you can hear it in local dialect, you can see it in national dresses worn by raftsmen, hackney coach drivers and native Szczawnica inhabitants at different ceremonies, in products of local craftsmen and works of folk artists.
There are active folk bands here and the Pieniny Division of Tatras Highlanders Union. The biggest event of local folklore is "Lato Pieniskie" (Pieniny Summer), organised in July by the Municipal Culture and Sports Centre, bringing you closer to customs and traditions of highlanders and shepherds.

In Pieniskie Museum there is a permanent ethnographic and historic exhibition, dedicated to the culture of Pieniny highlanders and spa tradition.

In Magdalena pump room serial exhibition of local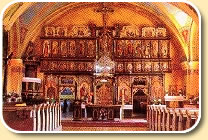 artists' painting, sculpture and embroidery are presented all the year.

Few kilometres from the centre of Szczawnica, in Jaworki, you can find a "harbour" for artists - "Muzyczna Owczarnia". Rock, blues, jazz, country and other concerts take place there, with well-known and popular Polish and foreign performers. Every weekend there is a gathering of connoisseurs of good music there, attracted in addition by original interior and unique climate of the place.

The richness of mountain landscapes and the charm of spa architecture from the 19th century, combined with diverse possibilities of active rest, attract year in, year out more and more lovers of nature and natural beauty of the area.